THE "MUST VISIT" BEACHES OF FLORIDA
Consider staying in a private home or condo during your visit to Florida such as a Disney Vacation Rental, Florida Keys Vacation Rental, or Miami Beach Vacation Rental. They offer more room and a more "Local" experience than a hotel.
When you look at a list of the world's most amazing beaches, it may come as no surprise that Florida's beaches dominate the list – its geography offers optimal conditions and allows for some of the most stunning scenes on this planet. With that said, below is a tour of some of Florida's top beaches and whether clothing is required or not, each of these pieces of paradise is an absolute
must visit
.
Sanibel & Captiva Islands, FL


Located just offshore from Fort Myers on the Gulf coast of Florida, the Sanibel and Captiva Islands were once connected; however, when a hurricane separated them in 1926, two pieces of paradise were created from one. Aside from the white sand and endless horizons, both islands are considered some of the top shelling beaches in the entire world.
South Beach, FL


Of course, you cannot talk about Florida's

Must See Beaches

without the mention of South Beach, FL. While it is one of the more occupied public beaches that won't allow you much privacy, its popularity is well deserved.

Although nudity is not officially allowed, the influx of European visitors has caused the conservative rules to be enforced a bit more liberally than most other places – especially in Lummus Park – in that case, strolling topless is a rather common affair.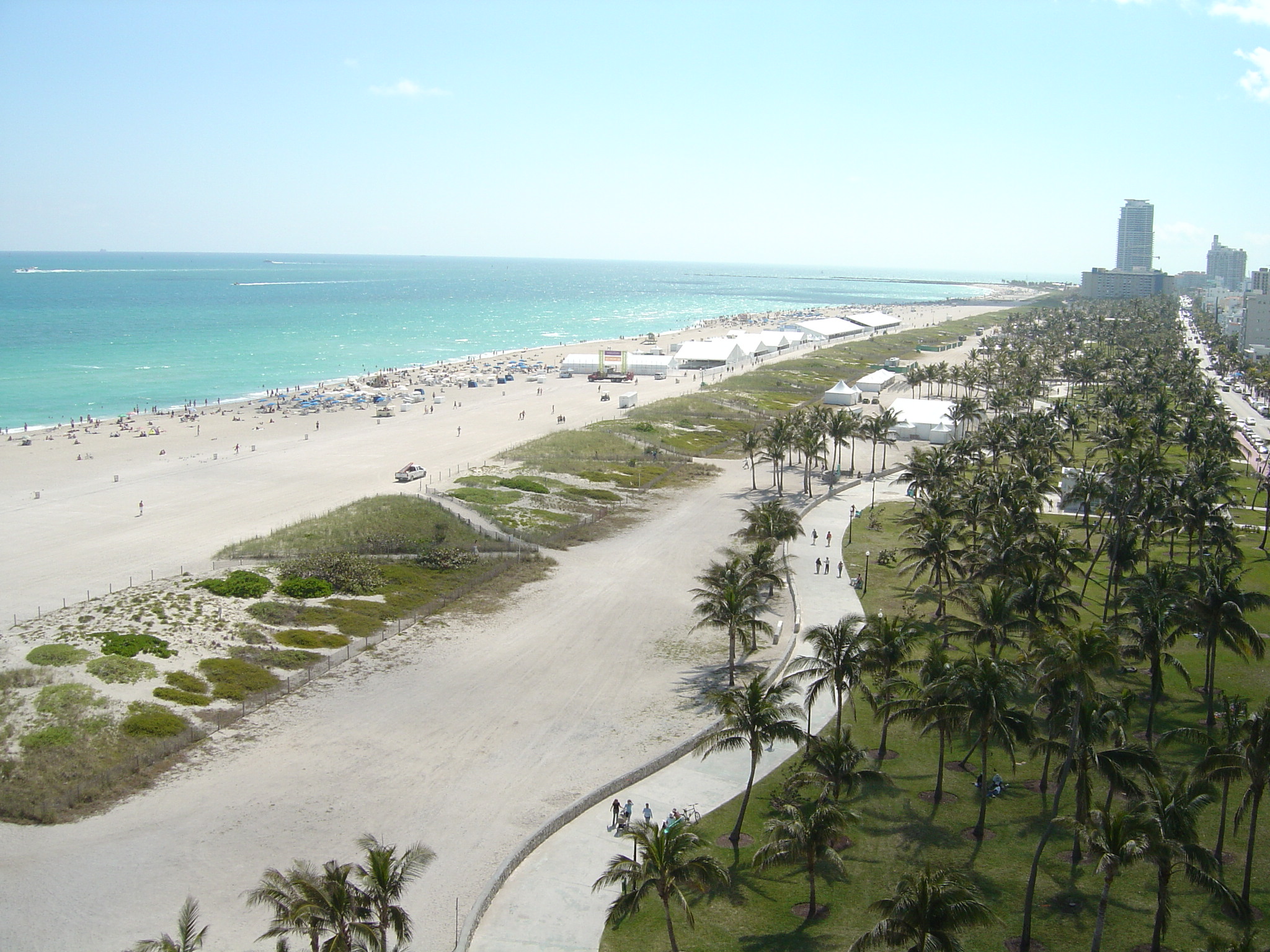 Haulover Beach, FL


Boasting over 1 million visitors annually, Haulover Beach in metropolitan Miami has earned a spot as one of the Travel Channel's "Top Beaches." With that honorary distinction, it is easily one of the most popular nude beaches in the United States and beyond. While nude sunbathing is the clear draw, visitors can also enjoy a number of other amenities such as barbecue grills, on duty lifeguards, concession stands and volleyball.
Delray Beach, FL


Widely known as one of the more "active" beaches in Florida, Delray is a popular haunt for surfers, kite boarders, body boarders and beyond. Located in Palm County, Florida, this gorgeous South Florida beach manages to maintain a much more inviting North Florida vibe – all are welcome.

Image source http://www.hellomarylougoodbyehouse.com/listing40.htm
Panama City Beach, FL


Entering the list as the first beach located in the panhandle of Florida, Panama City and its sunny beaches have the self-proclaimed slogan of "The World's Most Beautiful Beaches" – rightfully so. Adorned with its distinctive sugar-white sandy beaches, these heavenly stretches of coast are a Spring Break favorite for college kids (100,000+ visit between March and April) all across the country.
ENJOY THIS HELICOPTER TOUR OF PANAMA CITY BEACH, FL
Siesta Key, FL


Nestled in close proximity to Sarasota, Siesta Key, is a beach that has earned many distinctions as a highly favored destination based solely on its quality of sand; soft, white and clean sand that is 99% pure quartz. In addition to its gorgeous granules, Siesta Key was named #1 by the Travel Channel for having the clearest water. Simply paradise.
Apollo Beach, FL


Because the best nude beaches are intentionally hard to find, Apollo Beach is set in a rather undeveloped area, at the North end of Canaveral National Seashore – close to NASA – a place where there is more wildlife and endangered species being protected by the National Park Service than any would-be Peeping Tom passer-bys.
Naples, FL


With a city population of only 21,000 people combined with its tip-of-the-continent location, Naples offers 10-miles of secluded beach that was voted the Travel Channel's

Best Beach in America

in 2005. In addition to the undeniably beautiful white sand, Naples is also the home of many animal sanctuaries, national parks and wildlife refuges – a must visit for anyone seeking wide open spaces.

Clearwater, FL


Resting due West of Tampa is an impressive coastal city known as Clearwater – another stretch of stark white beaches and Florida sunshine the you won't want to miss. Aside from providing a stunning stage for the warm gulf waters, Clearwater is also a must visit for any baseball fan that wants to catch the spring training of the Philadelphia Phillies.
Hobe Sound National Wildlife Refuge, FL


Because the words "Wildlife Refuge" attracts a slightly different crowd than "South Beach" the Hobe Sound National Wildlife Refuge is a dazzling secluded beach that maintains a low profile, despite its close proximity to Miami. Surrounded by the multi-million dollar homes of the celebrities, it is not necessarily legal to loiter in the nude but, as locals can confirm, nudity is widely tolerated in this nook of private paradise.
Key West, FL


Widely considered one of the more popular islands in the Florida Keys, Key West, FL is one giant

Must-See Beach

. Although Smathers Beach is technically the largest beach in the city, there are countless private beaches lining the island that resemble heaven on earth. As a fun fact, there is a popular tourist attraction on the southern tip of the island; a monument that marks the Southern Most Point of the Continental United States!
TAKE A VIRTUAL TOUR HERE: http://youtu.be/t-YRl6aI4m0

St. Lucie Inlet, FL


Located between Hutchinson Island and Jupiter Island on the Atlantic coast of Florida, the St. Lucie Inlet is a little-known stretch of bare beach that is known for its bare bathers. With a fraction of the foot traffic of the more popular Florida beaches from above, this intimate inlet is still a well-kept secret – although, the Manatees know it to be

the

place to be.
Longboat Key, FL


Making the list as yet another award winning Florida beach worth a see, Conde Nast has named the beach on Longboat Key as one of the best beaches in the world. Located on the gulf coast of Florida, it's yet another stretch of sandy white beaches and lapping warm water that one must visit in their lifetime.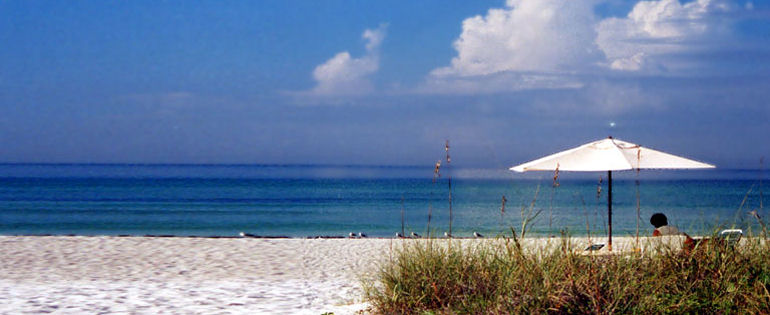 Panhandle at Topsail State Preserve, FL


One of the best kept secrets in nude beaches is Florida's Panhandle at Topsail State Preserve – it is said that "few nudists go to this park simply because they do not know about it." Spanning five miles of coast line and boasting large dunes of white quartz, this beach beauty is hidden from view and a perfect place for erasing those tan lines.
Palm Beach, FL


Rounding out the list of

Must See Beaches

in Florida is the ever-popular Palm Beach, FL. Home of extravagance and wealth, Palm Beach is 14 miles of unparalleled beaches – the best beaches for the "best" people including residents such as Donald Trump, Jimmy Buffett, Rod Stewart and the late Michael Jackson.


Image courtesy Elite Meetings and The Breakers Palm Beach.